My apologies for the prolonged lack of posts and updates. This is what has been happening: I did a tour in Germany and Switzerland in December with Mathias Kom; our duo Spring Breakup and Susie Asado shared a bill for 15 lovely shows. Susie Asado is brilliant and inspiring. Visit her at www.susieasado.com.
We enjoyed visiting Christmas markets and sampling the glüwein along the way. We found the audiences warm and welcoming, and the venues sweet. Thank you, everyone who made it so good!
One of the cutest places we played was in Trögen, CH. Our new friend Angela posted some videos. This is us playing a tune made famous by Frank and Nancy Sinatra: 
We hope to make it back there in the summer – will post as plans develop. 
Currently I'm in Toronto, recording the new Annie Lou record with Anne Louise Genest. It's sounding pretty hot, in an oldtimey way! Should be out in the world by April, when we will be back in Ontario for a Home Routes tour of house concerts. 
This stay in TO has been mind-expanding and has gotten me fired up for projects back home. Which brings me to this...

Introducing BLUE HIBOU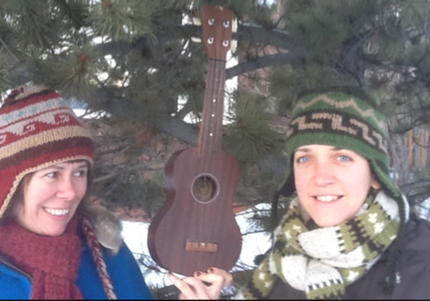 Hélène Beaulieu and I discovered recently that we have similar backgrounds in classical guitar, banjo, improvising and harmony-singing. In this happy collision we play original songs and instrumentals for two guitars, two banjos, banjo and guitar, and sometimes uke. Supported and uplifted by Micah Smith on bass and lap steel.
We'll be making our debut at the Frostbite Music Festival,  Feb. 17-19. http://www.frostbitefest.ca/
S'all for now. Ttyl! kb