Ida Red is playing at Deep Roots - prepare to get hoppin' in the old barn! AND, our band plus Old Man Luedecke are offering an amazing opportunity for budding musicians to learn all our bad (and good) habits, at the spankin' new Deep Roots Music Camp, for adults and youth 16+. We're really excited to get this thing off the ground, and there's not much time left to register so check it out: http://deeprootsmusic.ca/2015/08/deep-roots-music-camp/
Luedecke and I will share a class for clawhammer banjo and rhythm guitar. Dennis Robinson will take on the fiddles and mandolins, and Heather Kelday will host the songwriting class. This all runs Wednesday to Friday afternoon leading up to the festival. There will be slow-jams each day, where students can learn about jamming etiquette and try out some new tunes, and a student concert on Saturday morning at the festival where you can show off your new riffs. Camp is only $120 for the full three days (one or two-day options may be available), and students get backstage access during the festival (including hospitality!) and are invited to the wrap-up party at the end of the weekend. Good deal!
Hope to see you at the festival!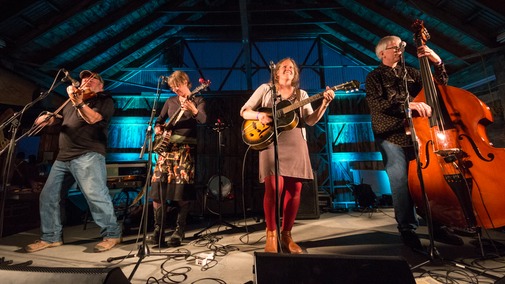 photo by Rebecca Hartery