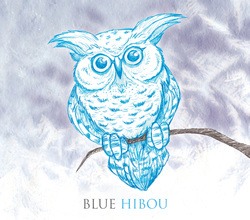 After one long year of waiting, Blue Hibou's new album is done! And it is really, really surprising and lovely! We recorded our first full-length CD in Toronto in February 2013, at 6 Nassau Studio, with Sandro Perri producing. Sandro is thoughtful, thorough, and brought a lot of great new sounds and ideas to the band. Toronto musicians Blake Howard, Ryan Driver, Mike Smith, Martin Arnold and Brodie West contributed their considerable(monster) skills to the recording. 
Our self-titled first release features many kinds of guitars, lap steel, gentle banjo and ukulele, Hammond organ, melodica, Blake's amazing grooves on kit, occasional flourishes of flutes, and more delights and sweet surprises. Barlow, who was seven months pregnant with twins at the time of recording, has a certain breathless quality which adds to the vulnerable honesty of her songs. Hélène Beaulieu's voice becomes a classic wistful, reverb-drenched p'tit oiseau françaises. Composer Mike Smith (Muskox) crafted arrangements for some of Barlow's instrumentals, plus a nod to the swingin' Bach recordings of the 60s/70s, on a Polonaise from Anna Magdalena's Notebook. 
This record is an unpredictable mix of instrumental compositions ancient, new, and newer, and songs in french and english, which may seem challenging at first as a listener. You may wonder what all these sounds have to do with you. Maybe you don't even: [understand french/english] [like Bach] [listen to singer-songwriters]. Give it a chance. Blue Hibou's new record is like a cohesive and deliberate mix tape put together just for you. With mindful listening, we aim to keep you engaged and delighted from start to finish. All these inventive, skillful musicians have made something bright and forward-looking. Rejoice with us! 
Blue Hibou will be performing a few select shows in Ontario and Quebec in May 2014, with more shows planned for the fall. The brilliant guitarist Justin Haynes will be sitting in for the May tour. Come hear what we've been cooking up all year!
For more info and to listen, visit: www.bluehiboumusique.com